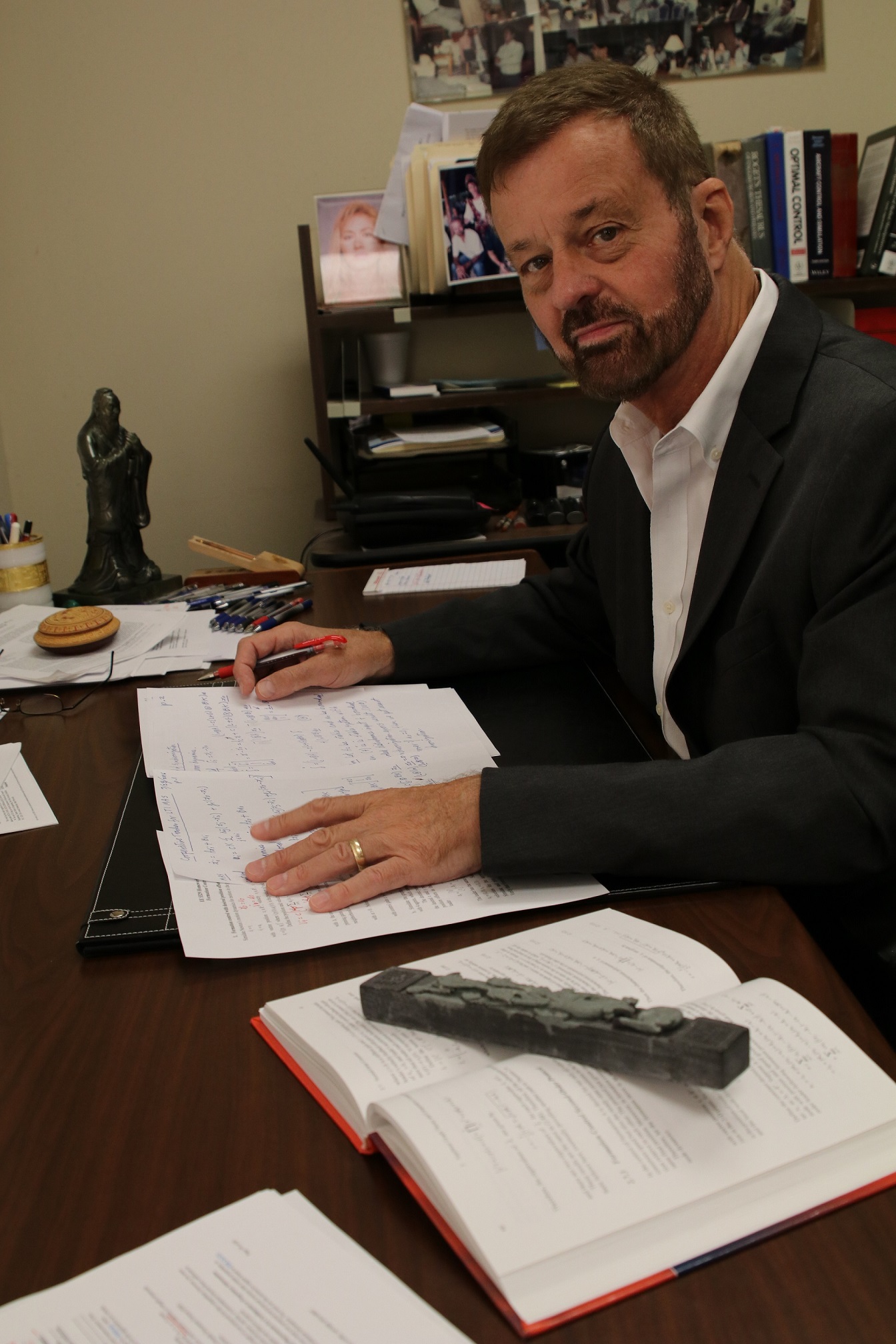 Research Area:
autonomous multiagent networks, robotic systems, small autonomous aircraft, intelligent driverless cars, industrial process control, and distributed estimation data fusion
Research Experience:
Dr. Lewis was born in Würzburg, Germany, subsequently studying in Chile and Gordonstoun School in Scotland. He obtained the Bachelor's Degree in Physics/Electrical Engineering and the Master's of Electrical Engineering Degree at Rice University in 1971. He spent six years in the U.S. Navy, serving as Navigator aboard the frigate USS Trippe (FF-1075), and Executive Officer and Acting Commanding Officer aboard USS Salinan (ATF-161). In 1977 he received the Master's of Science in Aeronautical Engineering from the University of West Florida. In 1981 he obtained the Ph.D. degree at The Georgia Institute of Technology in Atlanta, where he was employed as a professor from 1981 to 1990. He is Moncrief-O'Donnell Endowed Chair Professor of Electrical Engineering at The University of Texas at Arlington.Fellow, National Academy of Inventors. Fellow of the IEEE, Fellow of IFAC, Fellow of the U.K. Institute of Measurement & Control, Fellow American Association for the Advancement of Sciences, Member of the New York Academy of Sciences. Registered Professional Engineer in the State of Texas and Chartered Engineer, U.K. Engineering Council. Charter Member (2004) of the UTA Academy of Distinguished Scholars. UTA Academy of Distinguished Teachers 2012. IEEE Control Systems Society Distinguished Lecturer 2012-1014. Founding Member of the Board of Governors of the Mediterranean Control Association. Served as Visiting Professor at Democritus University in Greece, Hong Kong University of Science and Technology, Chinese University of Hong Kong, City University of Hong Kong, National University of Singapore, Nanyang Technological University Singapore.Received IEEE Computational Intelligence Society Neural Networks Pioneer Award 2012, AIAA Intelligent Systems Award 2016, AACC Ragazzini Award 2018. Received Fulbright Research Award 1988, American Society of Engineering Education F.E. Terman Award 1989, Int. Neural Network Soc. Gabor Award 2009, U.K. Inst Measurement & Control Honeywell Field Engineering Medal 2009, three Sigma Xi Research Awards, UTA Halliburton Engineering Research Award, UTA Distinguished Research Award, ARRI Patent Awards, various Best Paper Awards, IEEE Control Systems Society Best Chapter Award (as Founding Chairman of DFW Chapter), and National Sigma Xi Award for Outstanding Chapter (as President of UTA Chapter). Received Outstanding Service Award from the Dallas IEEE Section and selected as Engineer of the year by Ft. Worth IEEE Section. Listed in Ft. Worth Business Press Top 200 Leaders in Manufacturing. Appointed to NAE Committee on Space Station in 1995 and IEEE Control Systems Society Board of Governors in 1996. Received the 2010 IEEE Region 5 Outstanding Engineering Educator Award and the 2010 UTA Graduate Dean's Excellence in Doctoral Mentoring Award. Texas Regents Outstanding Teaching Award 2013.